Our events keep getting better and better. This month rediscover vodka with other VIP's by learning directly from David Nepove, the Director of Mixology for Southern Wine and Spirits of California, as well as the Vice President of the United States Bartenders Guild. At this Vodka Tasting event experience Sobieski premium Polish Vodka paired with cuisine from Eleve Restaurant in the upstairs private room. This is a very comfortable environment that allows us to sit back, relax, learn and network at the same time. Learn more and register at sobieski.eventbrite.com. We will explore the origins of the Sobieski brand and how Sobieski Vodka is made while enjoying several Sobieski tastings, hors d'oeuvres from Eleve Restaurant's award winning menu and learning step by step how to make our own cocktails.
Join us at Eleve Restaurant in Walnut Creek on Thursday June 21th, 2012 from 6pm to 8pm.
This exclusive event will sell out!… Register Now on Eventbrite at sobieski.eventbrite.com. An RSVP on Meetup does not guarantee admission. Must Register on Eventbrite. Get your early bird ticket now before the price increases!
Registration Process: This event will sell out!… so get your tickets fast!… click the registration button to join us. if it is sold out, please add your name to our list of people interested in attending. Based on demand we will send you a confirmation email to complete the registration process or invite you to our next event.
Presented by Sobieski Vodka, Imperial Brands Inc., Southern Wine and Spirits of California Hosted by Élevé Restaurant, Walnut Creek Events, Piedmont Avenue Consulting

About Sobieski Vodka: Sobieski Vodka has an exceptional story that doesn't need gimmicks. It begins in Poland's rich Mazowse fields where the golden Dankowski Rye is harvested. This grain has been recognized for centuries for its distinctive character. Crystalline water from Oligocene springs contributes to the silky finish of this noble spirit. It is then continuously distilled, creating one of the purest and smoothest vodkas in the world.
Sobieski represents a careful blend of authenticity and modernity that enables us to meet the strict requirements of the Polish Product Origin Control System. In other words, making vodka in Poland, of Poland, is what's required to call Sobieski true Polish Vodka. Or as you'd say it in Gdansk, Wódka Polska.
And while we feel your choice in vodka should be based on your liking it, not someone else's opinion, Sobieski received a Gold Medal, 95-point "Exceptional" rating, and "Best Buy" award by the Beverage Testing Institute.
Sobieski Vodka, the #1 premium vodka in Poland and one of the world's bestselling and fastest growing vodka brands, makes no compromises on quality and exemplifies the height of Polish craftsmanship and authenticity.  Building on a noble heritage, Sobieski Vodka is produced exclusively from the revered Dankowski rye at the Starogard Gdanski distillery dating back to 1846.
Event Location:
Eleve Restaurant(www.EleveRestaurant.com)
1677 North Main Street Walnut Creek, CA
Conveniently Located near Walnut Creek BART and in the heart of Walnut Creek at the Corner of N. Main and Civic. Eleve Restaurant provides the perfect environment for networking events.
Timing:
This VIP event is June 21, 2012 from 6pm-8pm at Eleve Restaurant in Walnut Creek.
Starts promptly at 6pm. Please arrive between 5:45pm-6pm. The tasting experience goes from 6:00pm-8:00pm.

Register Now by Clicking the Register Button or keep reading for even more information…
Who will be there?

Entrepreneurs, business owners, attorneys, bankers, real estate developers, physicians, technology gurus, sales and marketing experts and other professionals, along with others to socialize and meet new people.
What to Bring:
Bring your cards. Bring at least one card for Walnut Creek Events, so we can enter you in a raffle.
Environment:
Eleve Restaurant gives us our own space in their beautiful restaurant.
Eleve is "Floor-to-ceiling windows, multihued Brazilian hickory floors and chocolate tones ranging from milk to bittersweet give the main dining room some style and comfort. Earnest, knowledgeable servers, a smart international wine list and an inviting bar put Élevé on a par with its big-city counterparts."
"Élevé feels urban and sophisticated, yet comfortable and calm. The predominant color is that of milk chocolate, with a few bright accents—a pink orchid, a glass bowl of limes, a bowl of oranges—that stand out appealingly. A glass facade brings in a nighttime view of the dramatically lit white birch trees on the southeast corner of Civic and North Broadway."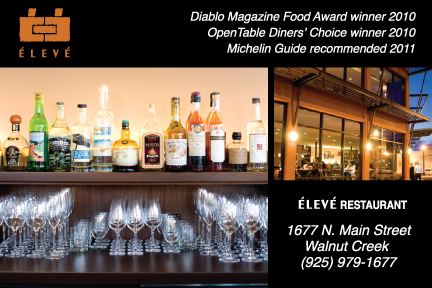 What people are saying about Eleve Restaurant:
Élevé is an award winning restaurant serving Vietnamese style cuisine in a beautiful two-story space located across from Walnut Creek City Hall and one block from Lesher Center for the Arts. Easy parking at the Lesher Center public garage one block away. The restaurant offers a casual dining experience that delivers exceptional cocktails, wines, personable service and high quality food. The menu is an update on classic Vietnamese cuisine.
"The bar at Élevé Restaurant features inspired interpretations on pre-prohibition era cocktails made with fresh and organic ingredients, house-made syrups and mixers, and liquors from artisanal, small-batch producers, with a menu designed by the inimitable Thad Vogler."
"The drink—on a list created by artisan bar god Thad Vogler, who helped develop the cocktails at Slanted Door, Camino, and Flora—is not all that unlike Élevé itself."
"There's an alchemy in the Brooklyn cocktail served at Élevé in Walnut Creek—a surprising result conjured from ingredients that are both old-school 1910 and local and organic 2010. Made from artisan liquor and essences, with a slab of hand-cut ice and what smells like an entire grove of refreshing orange peel, its layers of flavor would captivate even the most committed teetotaler."
"Élevé This cocktail is a beautiful mix of complex flavors—rye, vermouth, amaro, bitters—to be savored before enjoying Vietnamese specialties."
"Vibrant food and drinks made from top-notch ingredients play beautifully in the sleek, elegant setting"
About David Nepove: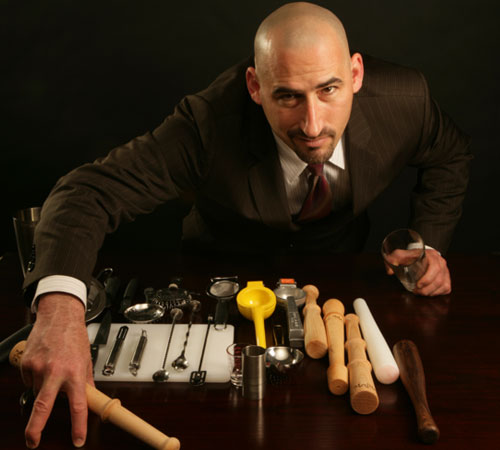 David Nepove is the Director of Mixology for Southern Wine and Spirits of California as well as the Vice President of the United States Bartenders Guild. He has been within the Restaurant Industry for 25 years and has 23 years of bartending experience. David has competed in many cocktail competitions and won first place in the 2005 Bacardi Martini Grand Prix world cocktail competition in Torino Italy for the "Best Italian Aperitif Cocktail". Inspired, David implemented a philosophy of bartending and drink preparation – quality ingredients and proper technique in creating great drinks and developing original cocktails for Enrico's Sidewalk Cafe in San Francisco. David's roll as Mixologist for Southern Wine and Spirits brings him to restaurants and bars across California to share his knowledge and passion for the cocktail and the craft. David trains bartenders to be more efficient and professional behind the bar and develops cocktail recipes for all types of accounts as well as sharing American classics and of course his award winning recipes.
About Walnut Creek Events: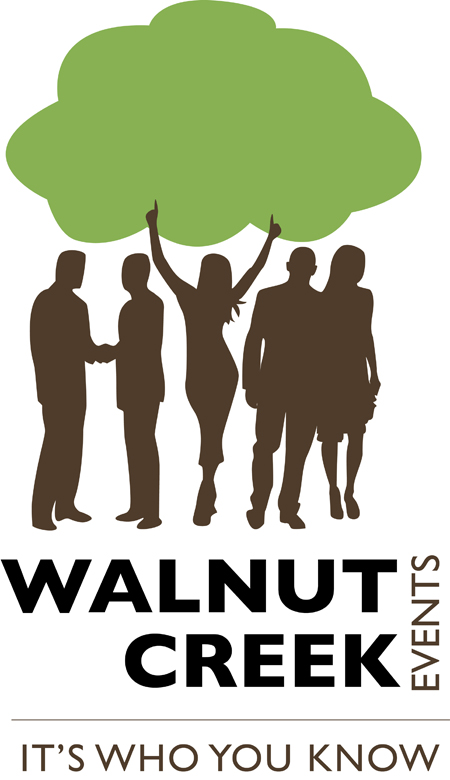 Walnut Creek Events are perfect for San Francisco East Bay professionals who want to connect with other professionals. Make new business and personal connections, build your network, find new clients, and identify business opportunities.
We make networking easy by having greeters at the door to not only welcome you – they introduce you to others, along with having events in elegant environments that makes it fun to connect with others.
Walnut Creek Events (WalnutCreekEvents.com) produces and promotes upcoming Walnut Creek Networking, Social Mixers and Business events in or around Walnut Creek.
We invite you to join us! You don't have to live or work in Walnut Creek to attend an event.
Our Eventbrite Profile Page is located athttp://walnutcreekevents.eventbrite.com
About The Organizer:
David Mitroff, Ph.D. is a Connector, Master Networker and Entrepreneur. David is the Founder and Chief Consultant ofPiedmont Avenue Consulting (www.PiedmontAve.com) a San Francisco Bay Area based business development and marketing consulting firm. David and his team work with clients across numerous markets and sizes to create brand awareness, strengthen customer loyalty and streamline business processes. David is an active member, on the executive board, or advisory committees for several organizations. He continually collaborates with several consultant groups, merchant associations, and charities to best serve the community.
David founded Walnut Creek Events (www.WalnutCreekEvents.com) to better serve his San Francisco East Bay clients by producing and promoting high level networking, social mixers and business events in or around Walnut Creek that can bring attention to East Bay businesses and create new connections.